MEET THE DA MEDICS...
We send medics on our most of our trips (group size dependent). They are known for their medical professionalism, caring approach and ability to muck in with the rest of the crew and help make your trip run as smoothly as possible. Most of our medics fit our trips in around their GP or hospital duties and come back on our trips time and time again. They're a highly valued part of the DA team and help to make your experience the best it can be.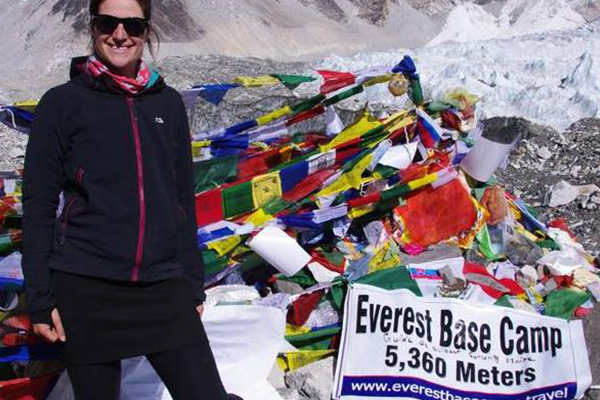 What is your all-time favourite DA Challenge and why?
I absolutely loved trekking out in Nepal to Everest Base Camp - not just an amazing, beautiful and challenging trek, but in addition I was completely overwhelmed being in the awesome presence of the worlds highest mountain and such spectacular scenery, it was very poignant. For so many in the group it was a special "bucket-list" moment, and it was a real privilege to be able to both facilitate and share that.

Which challenge would you recommend?
Cycling London to Paris is a trip I keep coming back to do time and again. It is tough, but actually very achievable. And after 4 long days of cycling - the reward of cycling as a massive peloton down the Champs-Elysées to the Eiffel Tower is a finish not to be missed....!

What is your top tip for cycling/trekking challenges?
Pace yourself! It is really easy to think about just getting to the end and completing your goal - but when that might not be for a few days it can be very overwhelming. It is really helpful to think about breaking the challenge down into smaller, more manageable goals, and set your pace at one you can keep going without needing really frequent breaks - you cover more ground that way. I think it is useful to build into your training things which last the whole day to get you in the right mindset, rather than just short bursts of activity.
I started with DA in 2003 after working with a different company and getting 'the bug' for combining my work with desire to travel and explore the world. I think a quote I heard on one trip 'life begins at the end of your comfort zone' and it sums up much of what a Discover Adventure Challenge is all about; taking people away from day to day monotony and showing them what a big and beautiful place the world is.
My favourite trips have definitely been to Nepal- it's an assault on all your senses and the people are so friendly and welcoming - I genuinely could never tire of the place.
My greatest DA achievement was definitely climbing Mera Peak in Nepal. This was for a charity trek in which we reached 6476m on quite a remote, less travelled route. I think we as a group all came back from this challenge with the 'Nepalese bug' - the overwhelming desire to go back as soon as we could! Strong friendships were formed and even now, 11 years later, we still all meet for an annual get together (group reunions are definitely a trend on DA challenges!)
My top trip for trekking in Asia is to embrace the culture, take time to talk and interact with the locals and most importantly remember to take a moment to stop,look and listen and drink in all that is great about this fantastic continent!