MEET THE PEOPLE WHO MAKE IT HAPPEN!
Great challenges mean great people and we're proud of our team that make them happen year on year.
All the people below (plus the many more who work for us throughout the year) are chosen because they have that rare ability to inspire and lead groups of people of all ages and from all backgrounds. It goes without saying that they all love travel and the freedom of the outdoors but, they can also fix bikes, often speak a multitude of languages, thrive on little sleep and still be energetic, negotiate baggage allowance with airlines and demonstrate a sense of humour at 5000m above sea-level, so we wouldn't be without them!

Here's a few of the leaders that you might meet on your next challenge
JO BRADSHAW - FROM PARTICIPANT TO CLIMBING EVEREST, THIS GIRL DEFINITELY CAN!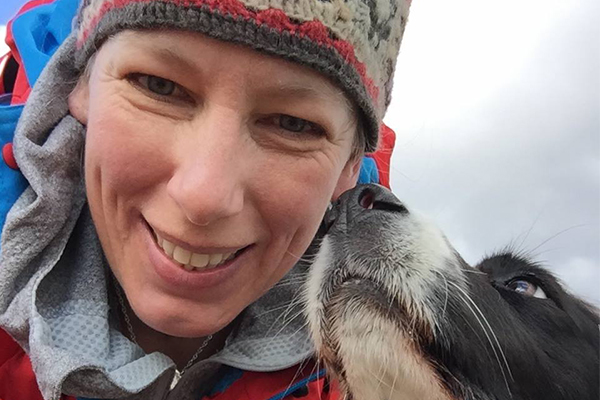 Jo with her dog Daisy
Which DA challenge is top of your list?
The Patagonia Adventure
. I lead this challenge in November 2009 and loved it. The raw nature and cleanliness of the national park, incredible glaciers, wild wind, scrumptious food and the cleanest air you'll breath in a long while! It's a real journey getting there but well worth it. You'll be hugely rewarded by a trip of a lifetime.
Passport stamp you are most proud of?
My entry stamp to Nepal on March 20th 2016. I took a group of DA challengers to trek to
Everest Base Camp
before I headed back up to EBC to climb Everest. It was quite an emotional trek as I was previously on Everest in April 2015 when the earthquake struck. I did a talk to my group and shed a few tears when we arrived at EBC, they were a huge support and a pleasure to do that journey with.
What is your top tip for cycling/trekking challenge?

Get fit for your challenge. Train properly for the challenge you are doing so go walking if you are trekking and get out on your bike if you are off on a cycle challenge. If you are as fit as you can be physically then you will be more mentally prepared and enjoy your challenge more. When I did my first DA challenge way back in 2004 I followed the DA training plan to the letter and it really put me in a good place for the challenges ahead.
You might not know but...
I started my life with DA as a client back in 2004. I signed up to cycle from Lake Titicaca to Machu Picchu and had never done anything like it before. I was fearful of heights and had to come off
Machu Picchu
as I had a wee melt down! A few years on and I've turned my fear into fun and reached the summit of Everest this year. It just goes to show that if you want to do something badly enough you'll find a way and if I can, anyone can!
See Jo's journey here!
VIC TITORENKO - ONE OF MOST ENCOURAGING PEOPLE TO GET YOU UP A MOUNTAIN!
What is your all-time favourite DA Challenge and why?
Everest Base Camp trip in Nepal; I absolutely love this trip due to the kind caring nature of the people who live there. Around every corner you find centuries old footpaths that twist and turn through the Khumbu Valley which stretch from Lukla all the way to base camp. On route you share your valley with amazing sites such as ancient Monasteries, cultivated fields, grazing yaks and tiny villages. All this sits beneath the world's tallest and my favourite mountain; Everest.

Which challenge would you recommend and why?
Climbing Kilimanjaro is like walking from the equator to the North Pole in a week! A snow covered mountain right on the equator, by the time you reach the summit at Uhuru Peak, you know you have been on an incredible journey but the sense of achievement is overwhelming. Once at the top, you are standing on the roof of Africa, you start to see the world in a different light and what once seemed impossible back at home now appears achievable; for many is a truly life changing achievement.

Passport stamp you most want to have?
Ethiopia and the Simien Mountains is a trip definitely on my wish list. A chain of mountains that stretch across Northern Ethiopia peaking at 4620 metres. Complete with rugged and remote regions of rocky plateaus separated by deep gorges, valleys and towering peaks, these beautiful mountains are definitely calling me.

You might not know but...I love leading the more extreme challenges because you see people working outside their comfort zones and I enjoy the personal challenge of creating a supportive and caring environment in which everyone can succeed. The things that feel the scariest to you are often the ones that will bring you your greatest rewards. I love my job and I can't wait to support you through your next adventure.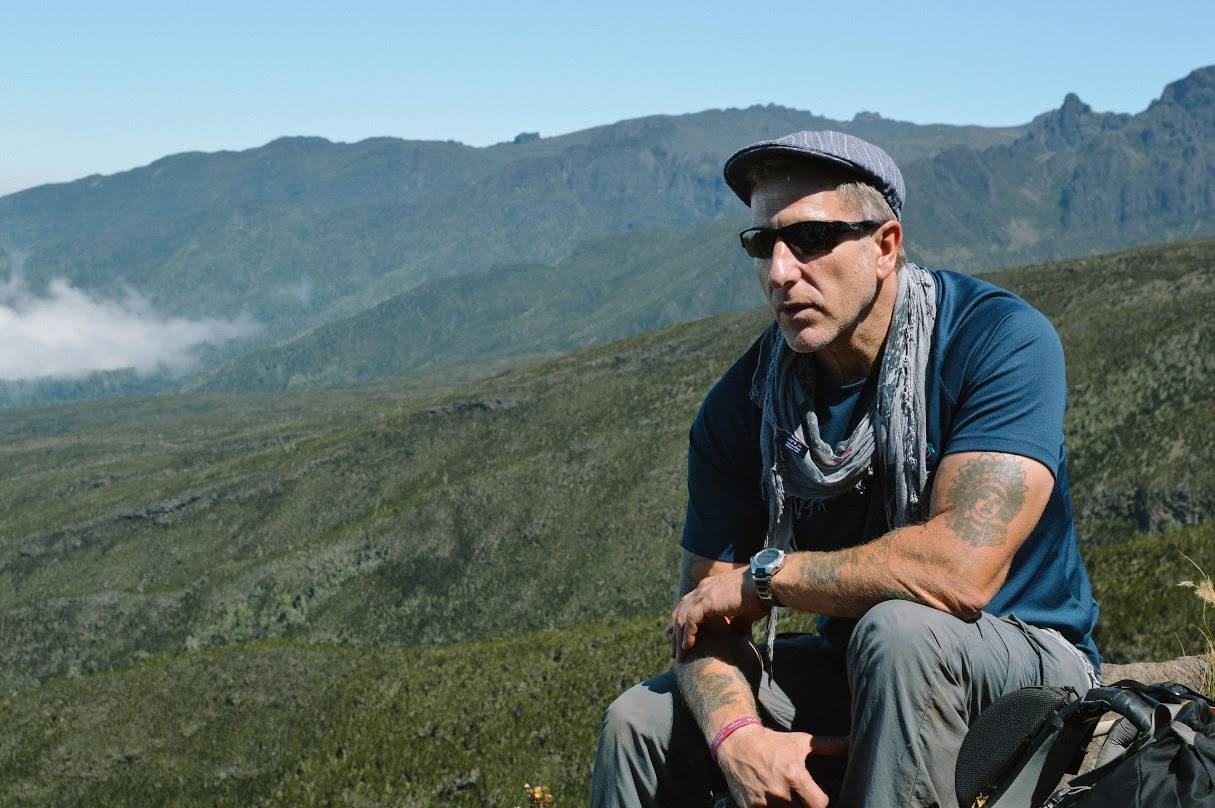 Challenge leader Vic
MARK PARRY - BUZZING ABOUT ADVENTURE, YOU'LL NEVER BE WITHOUT BANTER WITH MARK!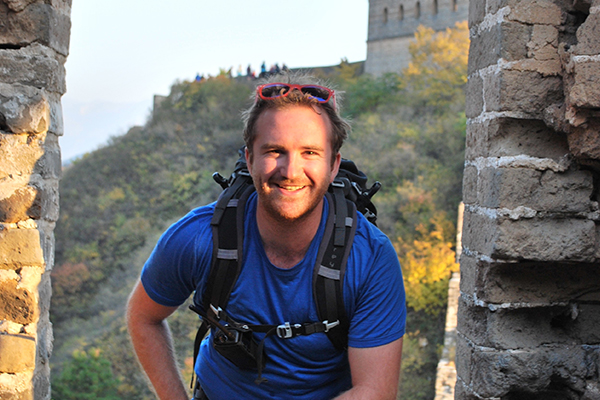 Mark on the Great Wall
What is your all-time favourite DA Challenge?
It's a challenge in itself to answer this question! I'm lucky to have been to a host of weird and wonderful places with DA. For me, the trip that stands out is the Inca Trail. The balance of Incan and Spanish culture in Peru has resulted in an extremely rich history, a fantastic fusion of architecture and some wonderful people, who talk about their culture with such pride that it's infectious. The trek itself is beautiful and challenging in equal measure as you climb through the foothills of the Andes, and the day spent at Machu Picchu is otherworldly! There are also plenty of llamas en-route so you can get that all important selfie!
Passport stamp you most want to have?
I went to Leh, India in the mid-2000s to climb Stok Kangri and I loved the Buddhist culture there, set among the edge of the Himalayas. At the other end of the Himalayas is Bhutan, one of the most isolated yet happy places in the world. Definitely top of the list at the moment but it might be a while before I get there!

What is your top tip for cycling/trekking challenges?
When you're on a DA challenge, you need to look after yourself in every way possible. You'll be going above and beyond your usual everyday exercise, so you need plenty of food, water and rest! So make sure you get stuck into the food - you'll need it! When camping you need to give yourself every chance of sleep; make pillows out of clean clothes and if you're a light sleeper, take earplugs and an eye mask!

You might not know but... I can play Mah-jong! My grandmother taught me as a kid and she made sure I brushed up on my mah-jong mandarin vocabulary before I went to China for the first time. The best way to make relationships in some cultures is through sharing a meal together; people are quite ritualistic like that... but out there, everything is about betting on the mah-jong that happens after dinner!
HEATHER JEFFERIES - WHATEVER THE WEATHER, SHE'S NEVER WITHOUT A SMILE
What is your all time-favourite DA Challenge?
Easy. Ho Chi Minh to Angkor Wat cycle - Vietnam to Cambodia. This challenge has it all: some great cycling along tracks and quiet roads, the enormous Mekong Delta with its floating markets, traditional farming, rice fields, history, friendly local people calling 'xin chao' (hello) as you cycle through their villages. Angkor Wat is spectacular – go at sunrise if you can.
In the UK it has to be the Jurassic Coast Weekend; the one I look forward to every year. It's a real escape from our busy lives with its stunning coastal scenery with some challenging 'undulations' along one of the best and quietest sections of the coastal path.
Passport stamp I'm most proud of?
I'm proud of them all. I love my work, the people I meet and the DA team. If I had to pick one it would be Cambodia. I love the country and its people and can't wait to go back again.

Passport stamp you most want to have?
Albania and the Accursed Mountains is top of my list. The name alone makes me want to visit! A little known country in the Balkan Peninsula. It has everything: mountains, coastline, world heritage sites and isolated valleys for some challenging trekking.

You might not know but...I signed up for a DA challenge in 2014 – the London to Nice cycle. It's an amazing cycle through Kent, rural France and the Somme, Paris, Chablis, the Jura Mountains, Geneva, Provence and the Mediterranean. There are some great ascents and even better descents! The DA team made it easy; all I had to do was pedal!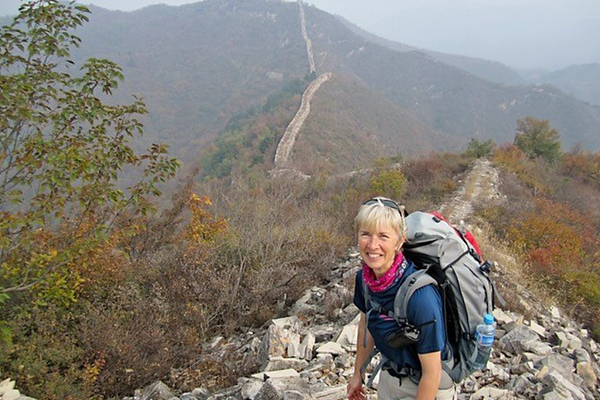 Heather trekking in China
CHRISTINA HEMMING - SHE'LL MAKE SURE YOU MAKE IT TO THE FINISH LINE!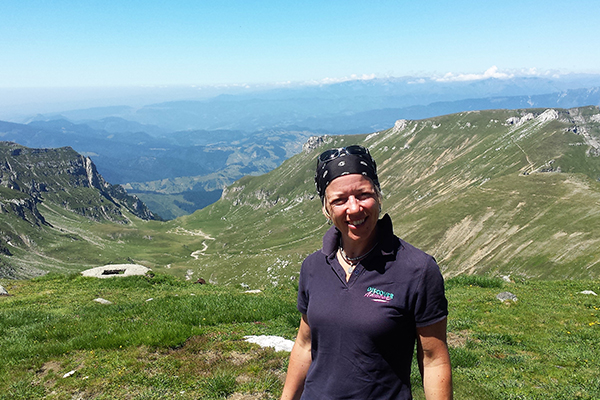 Christina somewhere in the mountains!
What is your all-time favourite DA Challenge?
My all-time favourite would have to be Vietnam to Cambodia Cycle. I am passionate about both cycling and trekking and this is one great way to see an amazing amount of both countries. You see the real village life of Vietnam as you cycle through back streets, and you travel along the Mekong Delta seeing how people live along the river, you pass paddy fields with farmers working in them and cycle the red shale roads of Cambodia with water buffalo bathing at the side. Both countries have such friendly people and the children are constantly running outdoors to wave and shout as you pass by. Aside from all this there is a welcome hotel at the end of each night and amazing local guides for whom nothing is too much trouble.

Which challenge recommend and why?
I would recommend any challenge that takes you to Nepal. To date this is my favourite country and if you love the mountains there is no better place to be. It is literally jaw dropping to see mountains, reaching well over 6000 metres high. The bustle of Kathmandu is only believed once seen and the people who live in this country, one of the poorest, are still the happiest people I have ever met.


Passport stamp you are most proud of?
The passport stamp I am most proud of would have to be Tanzania. This is where I climbed the hardest and highest mountain I have ever trekked; Mount Kilimanjaro. Summit night is still one of the hardest challenges of my life and I am pleased to say I am coming up to my 5th ascent on New Year 2017. What a way to start the year?!
DAVE MATHEWS - KNOWS CHALLENGES THROUGH AMERICA LIKE THE BACK OF HIS HAND!
What motivates you to lead adventure challenges?
In my 15 year career leading trips for DA it has been my privilege to share special moments of adventure and challenge with people who are pushing personal boundaries and unsure of their ability to succeed. DA clients are truly inspirational.

So of your 15 years leading, what is your most prominent travel memory?
Being at the summit of Kilimanjaro on a crisp but clear blue sky day with no-one else in sight and the whole of Africa before me – a true wow moment.

Which challenge would you recommend?
The Trek Costa Rica - a perfect journey of undulations through incredible rainforest with howler monkeys sounding your morning alarm as the sun rises through the jungle canopy. The added bonus of white water rafting and a day on Caribbean beaches makes this trip a must-do adventure.

What are your words of inspiration for prospective challengers?
"Unless you try to do something beyond that you have already mastered – you will never grow". A DA challenge will stretch you, inspire you and make you stand tall.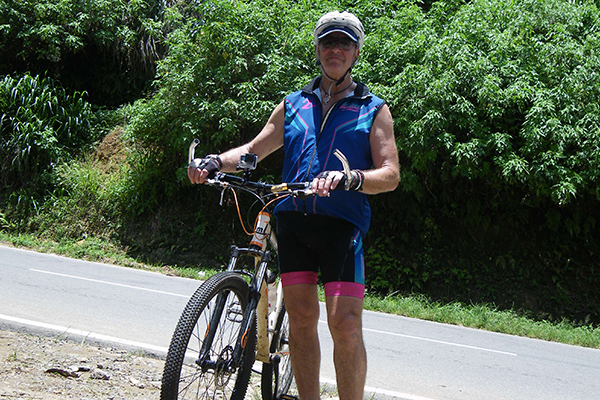 Leader Dave with the crew